A great start to the conference with day 1 of the training today. Everything's very slick and well organised - even the snacks supplied are healthy. If I have enough of those I might even be up to joining Craig Dunn on his organised run on Thursday morning (no promises though!).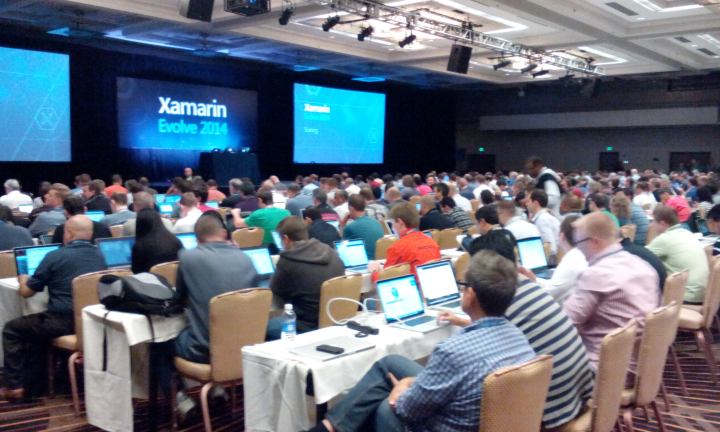 Nat's opening talk this morning highlighted quite an achievement - the turnout for the University training today and tomorrow is greater than the entire conference from last year. With reference made to increasing salaries for mobile developers it was always going to be a popular talk. Three tracks were originally planned for the training today:
Fundamentals
Xamarin Forms
Testing
It turns out that the demand for Xamarin Forms was so high that they ended up creating a fourth track, duplicating the existing Xamarin Forms track in order to accommodate the numbers. You can be sure that there was a lot of effort behind the scenes to organise the presenters to make this possible.
All the talks were in rooms with plenty of power sockets on hand, so they were expecting a lot of us to be running Macs with VMs! I've never seen so many Macs in one place at the same time. I've also not seen this many Alienware laptops in one place before - although admittedly it only took two to break that record.
The material was clear and well presented, as you'd expect from the Xamarin University trainers, with experienced people still picking up new nuggets of information during the entry level talks on this first day. Tomorrow promises to dive into more detail with the following tracks:
Fundamentals
Advanced iOS
Advanced Android
Enterprise
A great social event rounded off today nicely. As I left there were lots of green Xamarin t-shirts (the Xamarin team) crowded round a 20 foot long table football set - or should I call that fussball, given that I'm in the U.S.?